If you are into extreme adventures and fishing, here is an incredible opportunity to do them both! Simply get on a Maui charter fishing boat, get out in the open ocean and catch your own fish!
Your catch could look like this giant 675 pounds marlin, caught on April 12, 2010: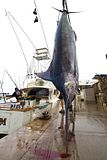 Here is a little preview of what you can expect on their boats:
Book your adrenaline pumping fishing trip today with Extreme Maui Fishing!
Visit their site to get all the details!
Have fun!
Tags:boat , fishing , holidays , nature , travel , Turism , vacation
Popularity: 37% [?]